About Us | Feminist Caucus
About the Feminist Caucus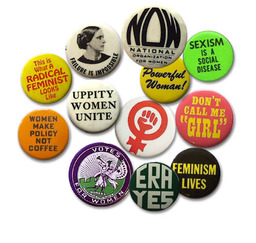 The American Humanist Association's Feminist Caucus is a network of AHA members who appreciate that women have more to contribute to the AHA and our humanist organizations and also much more to contribute to enhance the quality of life for men and women, girls and boys in local-to-global society -- toward achieving sustainable peace through the pursuit of justice, not just gender justice. The Feminist Caucus is for AHA members who want to work for the advancement of women's rights and just relations between men and women in all aspects of society and who want to develop, promote, and live by the philosophy and principles of partnership as described in the works of Riane Eisler.
We caucus by gathering in groups at AHA conferences (and at IHEW conferences and elsewhere) and by communicating electronically – to exchange ideas, educate and assist each other, and design action plans to affect positively the AHA itself and the world around us. Read More.
Our History
The Feminist Caucus of the American Humanist Association was established in 1977 as a coalition of both women and men within the AHA. The basic purpose was to work toward the advancement of women's rights and equality between the sexes in all aspects of society.
Originally called the" Women's Caucus", the new name "Feminist Caucus" was adopted in 1985 as more representative of all the members of the caucus and of the caucus' goals. In 2011, some people are questioning the terms "feminist" and "caucus", wondering if "council" should be adopted instead. Read More.
Our Initiatives
FC members, individually and in clusters, involve ourselves in constructive action for positive social change. We often support, sometimes lead, other organizations and groups in these endeavors. In all cases, study must preceed action. Our early steps are to pay attention to issues and problems raised, observe and gather data, analyze and compare notes. Only then do we formulate a position and strategic process from which we can mount positive and peaceful activism. Read More.