Secularism as a College Major? Interview with Phil Zuckerman of Pitzer College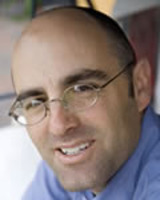 By Monica Miller
Psychology, Economics, Environmental Studies … and Secularism? Starting this fall, Secularism will be one of the majors offered to students at Pitzer College, a small liberal arts institution located in Southern California. Although many colleges and universities offer majors in religion or theology, Pitzer College, my alma mater, is the first to offer a major in Secularism.
The major was proposed by Phil Zuckerman, a sociologist of religion who describes himself as "culturally Jewish, but agnostic-atheist on questions of deep mystery." Having studied and taught in Denmark, Zuckerman has authored several books on atheism and approaches secularism from a global point of view. Professors from other departments, including history, philosophy, religion, science, and sociology, will teach courses such as "God, Darwin, and Design in America," "Anxiety in the Age of Reason," and "Bible as Literature."
So far, the administration and student body have welcomed the new major with little resistance. Although Zuckerman did hear rumors that "some people thought it might just be an 'excuse to bash religion,'" no one "seriously raised this issue." In fact, he said, "[t]here was general support from all corners."
The administration's approval of this new major reflects its adherence to Pitzer's four core values: Academic Excellence, Social Responsibility, Diverse Community, and Intercultural Understanding. To grasp Pitzer's devotion to these principles, consider the title of my freshman seminar: Justice and Morality in a Cross Cultural Context. The anticipated course offerings under the new department of secularism will further these goals as well as the overall mission of Pitzer College, which is to produce "engaged socially responsible citizens of the world through an academically rigorous, interdisciplinary liberal arts education emphasizing social justice, intercultural understanding and environmental sensitivity."
Zuckerman began teaching "secularism" as a topic in 2008, with what was considered the first ever "sociology of secularism" class. The class, which I had the privileged of taking during my final semester, included readings from secular luminaries such as Richard Dawkins, Bertrand Russell, Sam Harris, Christopher Hitchens, and Ayaan Hirsi Ali. In only three short years, Zuckerman was able to take this one course and turn it into an entire department of secular studies. But, according to Zuckerman, "This is only the beginning." He hopes that more programs like this will emerge and maybe, "some day soon, graduate programs as well."
Although there is not yet a course in the new major "specifically called 'Humanism,'" Zuckerman says it is a "topic covered in many of the classes we do offer." Zuckerman informed the American Humanist Association, "We definitely hope that Humanism will be a part of a student's study as they pursue a major in secular studies." He noted, "I talk about it in my sociology course called 'Secularism, Skepticism, and Irreligion,'" and "suspect[s] that it will be mentioned in some of the philosophy courses offer[ed] for the major."
In the past, the Appignani Humanist Legal Center has used Zuckerman's research to support their legal arguments, quoting from one of his books in an amicus brief filed last summer in the Seventh Circuit Court of Appeals. The brief, filed in support of the Freedom From Religion Foundation, argued that the government lacked a rational basis for discriminating against non-theists by continuing the National Day of Prayer.
Zuckerman believes that a major in secularism opens the door to a wide variety of career paths. "On the one hand," Zuckerman said, "it is simply an undergraduate degree – like any other." But more than that, he hopes that graduates who "leave with a secular studies degree [will be] prepared to be actively engaged in civic, social, and political issues, from church-state separation, to debates over gay marriage, [and] evolution."
"We hope our graduates will consider law school, or teaching, or community activism," Zuckerman says. "But whatever they decide to pursue, we hope they will graduate with a solid knowledge of science, religion, ethics, and historical developments pertaining to the emergence of secular worldviews" and "the ability to articulate and defend secular principles."
As soon as the new major was introduced, Zuckerman immediately heard from three students interested in the major. One of them was Kiley Lawrence, a pre-med student at Scripps College – one of the seven Claremont Colleges – who was recently quoted in the New York Times. Lawrence is currently "considering double majoring in Biophysics and Secular Studies." She tells the American Humanist Association, "The creation of a Secular Studies major revealed a new way for me to study and understand science and logic. I feel as though the two majors not only help to explain and clarify what I feel is true about our world and the universe, but also that each course of study enhances the elegance of the other."
Lawrence predicts that this major will generate a lot of interest among the Claremont Colleges. "I'm part of a generation that thrives on asking questions, on challenging normative ways of thinking. I mean, traditionalist views of religion and life can't be presented as truths for much longer – society is growing more and more skeptical, and looking for alternate routes of thinking. Secular Studies provides that."
Although Pitzer is known for being one of the more "liberal" campuses within the consortium, Lawrence believes that all of the campuses are "open to differing schools of thought, and no one is particularly quick to discredit the academic interests of others." She thinks that most of the students on the campuses will "realize that studying atheism is essential to understanding religion, which makes it something that both the religious and non-religious can appreciate."
Monica Miller, legal extern for the Appignani Humanist Legal Center of the American Humanist Association and a 2008 graduate of Pitzer College, considers it a privilege to have been a member of the inaugural section of "Sociology of Secularism."